Chairman and CEO message
"2021 has been a year of conscientious effort and commitment at CLP. We have been adapting and building our resilience to COVID-19, sustaining operational excellence and strengthening our commitment to decarbonisation."
The Honourable Sir Michael David Kadoorie, Chairman (left) and Richard Lancaster, Chief Executive Officer (right)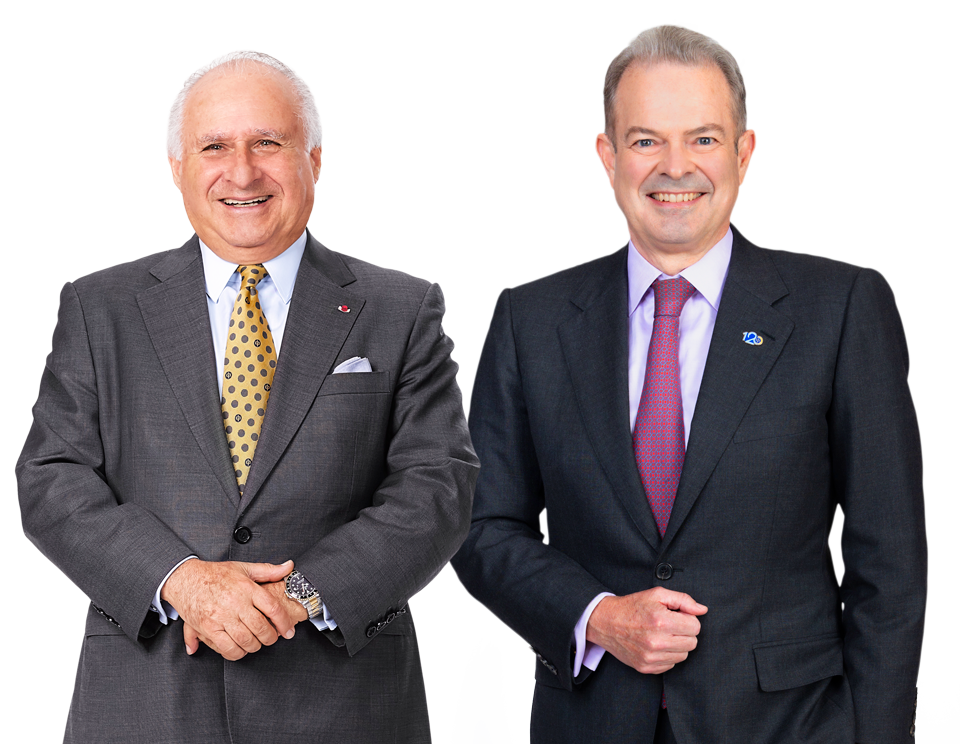 More than two years into the pandemic, we continued to make it our priority to look after people – our colleagues, customers and communities. Many of our markets have seen the beginning of their economic recovery from COVID-19 although a recent surge in variant cases is disrupting the course.
In the face of the pandemic and many other challenges, we remain committed to a holistic approach to addressing the interests of our different stakeholders. That's why we have strengthened our sustainability and financial reporting by assessing the issues facing CLP from both the impact, or stakeholders' perspective, and the financial perspective in further detail. Our Sustainability Report focuses on impact material topics affecting a wide range of our stakeholders while our Annual Report delves into financially-material topics which are more relevant to our shareholders and other capital providers.
Transitioning to net zero
One of our stakeholders' key interests is how we shape and execute our transition to net zero. Climate change undeniably represents a major risk to our communities and our business. Among our operating markets, Hong Kong, Mainland China, Australia, India, Thailand and Taiwan have all committed to net-zero emissions. Our strategy recognises not only our own journey to net zero, but also our ability to play a key role in supporting the decarbonisation of the communities where we operate and to leverage the opportunities presented.
In September, we unveiled our updated Climate Vision 2050 with a commitment to achieve net-zero emissions across our business by 2050. We brought forward the date of the complete phase-out of the coal-fired generation assets in our portfolio to 2040, a decade earlier than previously pledged.
We have also set new science-based targets for 2030 and further strengthened our 2040 targets to align with what the latest climate science deems necessary to meet the goals of limiting global warming to well-below 2°C above pre-industrial levels. To pursue efforts to limit global warming to 1.5°C, we remain committed to strengthening our decarbonisation targets at least every five years.
As we race against time and move towards net zero, careful long-term planning and coordination to balance different interests as well as large-scale investments to support the transition will become ever more critical.
Reinforcing resilience
In a changing operating environment, CLP's efforts in reinforcing its resilience is also of foremost importance. During the year, our business continued to exercise the agility and dedication to maintain a high level of resilience against challenges such as the global pandemic, supply chain disruptions and cyber threats.
We are also gearing up to protect our assets from physical damage caused by the impacts of extreme weather conditions while continuing our investment in related risk management technology and innovative adaptation practices. Meanwhile, ongoing efforts are being made to improve the efficiency of our assets and to optimise our power grids.
For instance, in Hong Kong, we updated our climate change risk assessment of all our power generation, transmission and distribution assets in 2021 and enhanced our adaptation measures underway in our operations to keep our service highly reliable.
Furthermore, to strengthen our cyber resilience, we focused on developing a security risk management strategy to deliver holistic and coordinated protection to our operations, with the help of new technologies. A cyber monitoring centre is also planned in Shenzhen to support CLP's efforts in capturing the growing business opportunities in the Greater Bay Area.
Creating value for stakeholders
With an unwavering focus on our stakeholders, we have been dedicating ourselves to aligning with the expectations of our communities, employees and customers, among others. To encourage our customers to embrace low-carbon lifestyles, we continued promoting energy efficiency with a range of innovative solutions and installing smart meters across our supply areas in Hong Kong and Australia to help users better manage their electricity use.
In the corporate sector, one of our key achievements over the year was successfully developing Hong Kong's largest battery energy storage system with the Airport Authority Hong Kong. It comprises a predictive control system for air conditioning in one of the airport's terminals and serves as an emergency back-up power supply system.
To provide the best service we can and to keep our business thriving for years to come, support from our people is critical for our success. We spare no effort to foster agility, diversity and inclusion, maintain a healthy working environment, support our people to achieve their potential and attract talent to seize new opportunities for a net-zero, digitally-enabled future. In our Value Framework and newly launched Group Labour Standards, we also reaffirmed our commitment to respect internationally recognised human rights relevant to our operations – one of our cornerstone values.
2021 was CLP's 120th anniversary. During the year, we took the opportunity to reinforce our long-standing commitment to Hong Kong and deepen our connections with the communities of which we have been a proud member since 1901.
Looking forward to 2022 and beyond, we are determined to work closely with our partners and the governments in our markets to support the realisation of climate targets, deliver a credible decarbonisation plan, and leverage technology to serve growing customer demand for energy solutions. Most important of all, building and organising an agile, innovative workforce with the right values and ability to thrive regardless of the external environment will come to define what CLP truly stands for as a Utility of the Future.

The Honourable Sir Michael David Kadoorie
Chairman

Richard Lancaster
Chief Executive Officer
Hong Kong, 28 February 2022