2021
All round community support during the pandemic
The COVID-19 pandemic continues to adversely affect different sectors of society. CLP Power rolled out a range of targeted initiatives to address the needs of the communities of Hong Kong.
Although schools have resumed face-to-face classes, a combination of that and e-learning has become a new normal as the COVID-19 pandemic continues to disrupt normal life. This has been a challenge for less well-off families unable to afford online learning equipment for their children or lacking the computer skills to support them.
To address this digital divide, CLP Power collected 100 second-hand computer notebooks in good condition and donated them to underprivileged families through the Hong Kong Single Parents Association and the Hong Kong Computer Society. CLP volunteers also provided computer training for parents and children caught on the wrong side of the digital divide.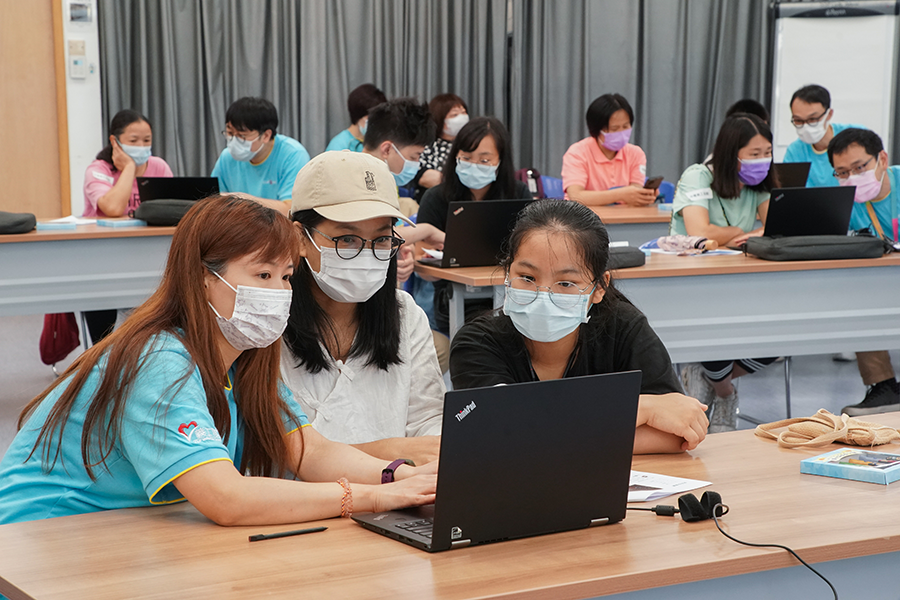 Beyond donating used laptops to underprivileged families, more than 2,300 anti-virus goody bags were distributed to underprivileged people and virtual visits to seniors in elderly homes and day care centres were arranged. A food drive was also held across various CLP premises. Around 990 kg of food was collected by CLP volunteers in five days, equivalent to 2,367 meals, and donated to a local food bank for distribution to those in need. These initiatives are a continuation of CLP volunteers' pandemic support since 2020. CLP Power won four awards in the Hong Kong Construction Industry Volunteer Award Scheme, recognising CLP Power's initiatives in caring for the community using technology and creativity during the pandemic.
Due to a surge of COVID-19 infections at construction sites in early 2021, CLP donated 10,000 bottles of hand sanitiser to frontline workers through a community organisation that serves labourers of public utilities.
Furthermore, to support Hong Kong households and businesses struggling under the pandemic, CLP Power dedicated more than $80 million from the CLP Community Energy Saving Fund for a six-month CLP Retail and Catering Coupons programme. Coupons were given to each of the nearly 800,000 households, including residential customers with low electricity consumption, elderly customers who are qualified for concessionary tariffs, and 10,000 tenants of subdivided units. The coupons could be used in more than 2,800 participating outlets during the six-month period. The programme received a very positive response and will be relaunched in 2022.
CLP also recognises vaccination as an effective means to protect the community and a vital tool to end the pandemic. In order to encourage more Hong Kong residents to get vaccinated against COVID-19, CLP sponsored vaccination lucky draws hosted by the Hong Kong General Chamber of Commerce and The Chinese Manufacturers Association, and donated over HK$0.8 million to charities for the vaccinations received by Hong Kong-based employees and their family members.
Back to all case studies