Chairman and CEO message
"Looking back, the year of 2022 was largely defined by the conflict in Ukraine and its related energy crisis, as well as the lingering impact of the pandemic. With rising inflation and interest rates, it has become one of the most economically challenging years in recent history. We all have been dealing with the impact in varying degrees."
The Honourable Sir Michael Kadoorie, Chairman (left) and Richard Lancaster, Chief Executive Officer (right)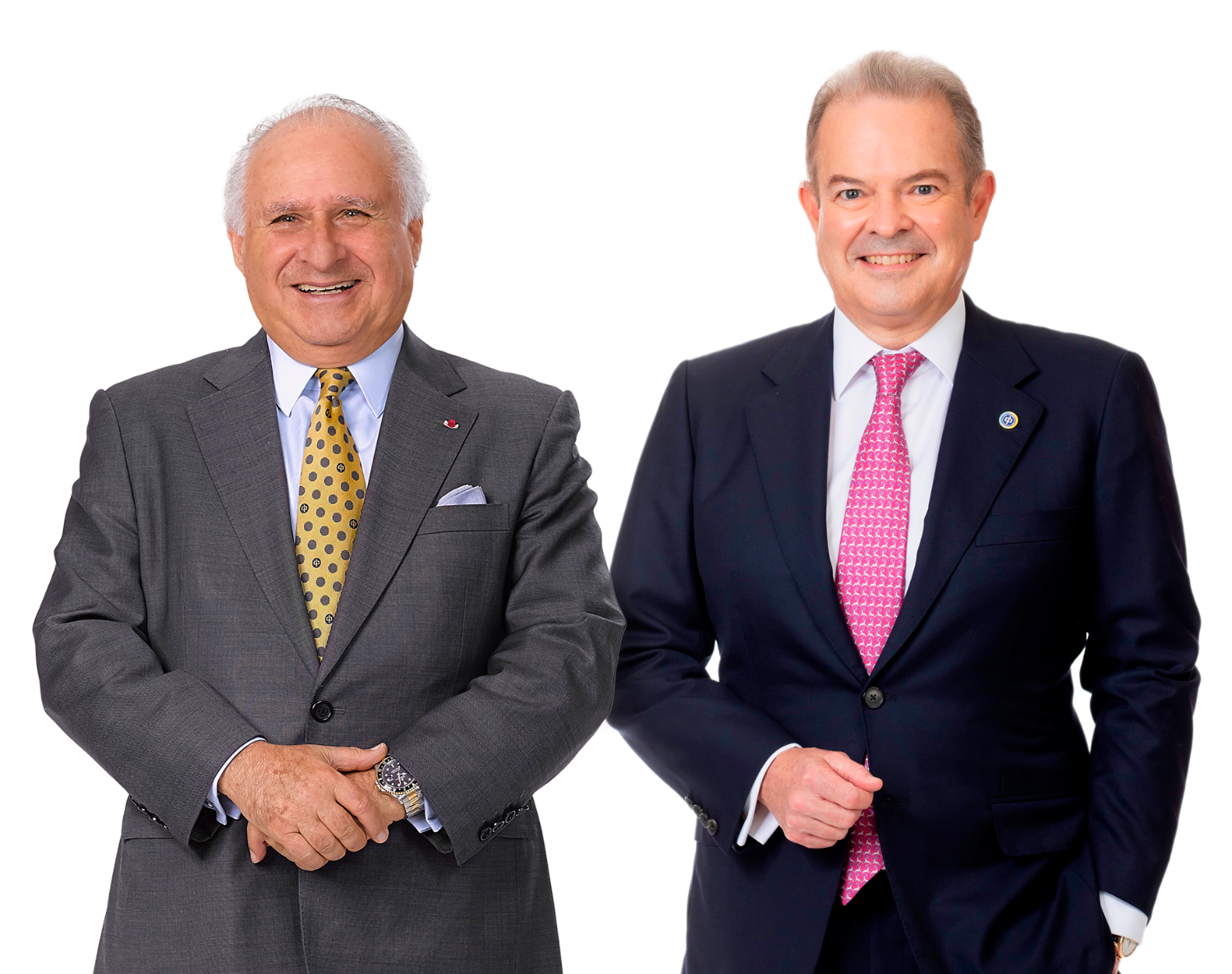 As we hope for an end to these crises, we remain focused on decarbonising and digitalising our operations while supporting our customers and communities. We also work closely with partners, policy makers and other stakeholders to make energy transition a reality.
Transitioning to net zero
To grow our business for the long term, we must continue our move towards net zero to play our part in addressing the global challenge of climate change. In 2022, we remained on track to achieve our targets set in our Climate Vision 2050.
In line with our commitment to phase out coal-based assets before 2040, we divested our 70% stake in the coal-fired Fangchenggang Power Station in Guangxi, Mainland China. The decision came after a thorough review of options and with the objective to free up capital for us to further invest in renewable energy projects while ensuring the much-needed power reliability and job security in the community concerned. Going ahead, we will continue to engage with governments, business partners and relevant stakeholders to support an orderly transition for our legacy coal-fired assets.
In the meantime, our renewable energy portfolio has continued to deliver steadily. The Qian'an III wind project in Jilin province began commercial operations in 2022 and other renewable energy projects including the Xundian II and Bobai wind farms, as well as the Yangzhou Gongdao and Guangdong Mazhang solar plants, also in Mainland China, have made good progress. All five projects are grid-parity that do not rely on government subsidies. In India, the new Sidhpur wind farm is expected to be fully commissioned by June 2023.
Bolstering energy security and reliability
As we decarbonise our operations, we also make it a priority to provide customers with reliable and reasonably priced energy. In Hong Kong, we believe maintaining investment under the next five-year Development Plan leading up to 2028 will be important for the city's energy security and reliability, which are delivered through diversification.
That is why CLP has brought nuclear power to Hong Kong across the border since decades ago and recently invested in additional capacity at gas-fired Black Point Power Station. The offshore LNG terminal, which began construction long before the current energy crisis, will prove even more strategically significant than initially imagined. The infrastructure underlines the importance of long-term planning in the energy industry where investments often take years to materialise and last for decades. On the other hand, early planning also affords sufficient time for us to repurpose existing facilities as a cost-effective and flexible way to lower emissions, as we pay close attention to the growing potential of hydrogen in facilitating the energy transition. 
In Australia, we continued to invest in new forms of on-demand generation capacity and flexible assets which play an important role alongside renewables. We have partnered with Edify Energy on two new battery projects in New South Wales and we are studying a grid-scale 500MW battery project at our existing site at Mount Piper Power Station.
Creating value for stakeholders
In our energy transition journey, we take on board the needs of our customers, employees and the wider community. Our future is not just one where we are suppliers and producers of energy, but where we provide elevated service to support customers to meet their energy demand, make better energy choices and find solutions to meet their own sustainability targets. Our strategy to evolve the business into an Energy-as-a-Service model is another example of us looking ahead and preparing ourselves to be sustainable for generations to come.
By investing in an agile, innovative workforce, we are building the team that can thrive through this period of evolution. CLP has a proud history and enduring legacy on which the coming decades will be built. We continue to develop new skills to put us at the forefront of our industry's transition.
To realise our ambition, we collaborate with our suppliers. In December, we rolled out a new Supplier Code of Conduct which sets out our expectations of suppliers and reflects international standards. It encompasses key sustainability topics including environmental management, climate change, as well as labour practices and human rights.
Reinforcing resilience
We understand our critical role in ensuring a reliable power supply for the community and economy. To this end, during the past year, we continued to build our climate and cyber resilience in view of the changing operating environment. As part of our efforts, we launched an asset management standard to guide climate-related risk assessments and adaptation practices for our generation and network assets in Hong Kong. This went hand in hand with our continuous studies in assessing our climate risks and adaptation approach. To further protect our power systems, we also undertook a comprehensive review of our cyber security strategy to help manage potential challenges.
Our transformation into a Utility of the Future is well underway. Our strategy, underpinned by our core values with a clear path to net zero, is central to how we manage our business regardless of the external shocks and unexpected macroeconomic changes in the current environment.
As we hope for a 2023 of less conflict and more stability, we maintain our primary focus on decarbonisation and sustainable energy solutions in Hong Kong and Mainland China with disciplined presence elsewhere. By investing strategically, in partnership where appropriate, we can deliver against the growth opportunities and continue our transformation.

The Honourable Sir Michael Kadoorie
Chairman

Richard Lancaster
Chief Executive Officer
Hong Kong, 27 February 2023