Aligning business activities with community, employee and customer expectations
As a purpose-led business, CLP recognises its obligation to meet evolving stakeholder expectations around the positive role businesses can play in society. This includes empowering end users by offering decentralised energy solutions that meet their needs and collaborating with partners to deliver clean energy solutions that benefit customers, communities, and the environment. Employee and supplier wellbeing is also a priority. CLP recognised that its long-term success relies on its capacity to build an agile, diverse, inclusive, and ethical work culture capable of attracting the highly skilled talents needed to build a Utility of the Future.


Human rights in the supply chain
Copy linkCopy link
Human rights due diligence is critical in managing supply chain risks. In becoming a Utility of the Future, CLP continues to promote supply chain transparency as a competitive advantage and recognises its responsibility to eliminate all forms of modern slavery and labour exploitation. 

In 2022, CLP Procurement Supply Chain Management (PSCM) established its Procurement Supply Chain Management Sustainability Vision and a three-year roadmap defining the focus areas of responsible procurement. 
In accordance with this new roadmap, CLP released its first Supplier Code of Conduct (SCoC) in December 2022, and updated the Responsible Procurement Policy Statement which has been in use by the Group since 2012. The SCoC is derived from CLP's values, policies, standards and objectives, and clearly states CLP's expectations on the suppliers it is doing business with and those who want to do business with CLP.  The SCoC articulates 11 responsible procurement practices.
Supplier Code of Conduct – responsible procurement practices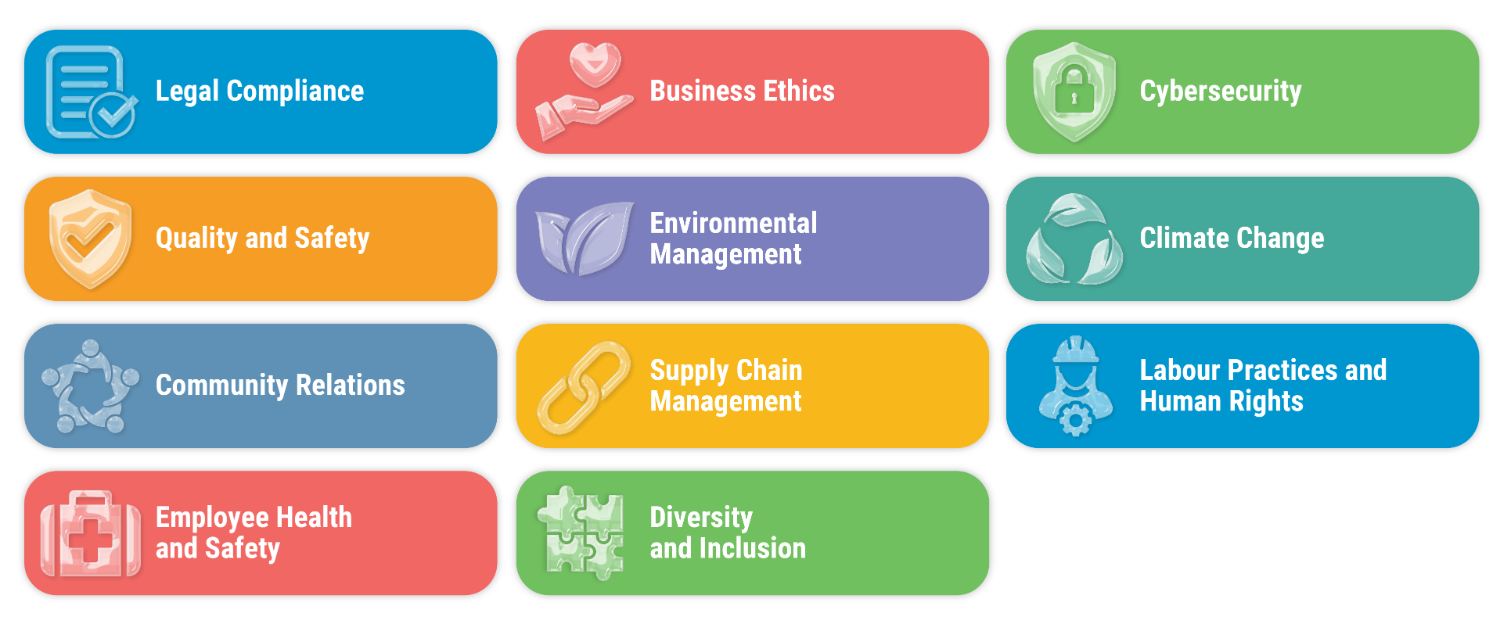 Understanding the importance of upholding human rights along its supply chain, CLP's SCoC incorporated this essential element in the following three focus areas:
Labour Practices and Human Rights: CLP respects all internationally recognised human rights relevant to its operations and recognises the value of its employees, their families and the communities it operates in.  As a responsible business, CLP is committed to cascading this value to its operations and its suppliers to provide a dignified, fair and equal workplace.

Employee Health and Safety: In 2022, the International Labour Organisation (ILO) adopted a safe and healthy work environment as one of the fundamental principles and rights at work. CLP continued to safeguard the health, safety, and wellbeing of its employees as part of the Company's core value. CLP will provide guidance and support to its suppliers to create a healthy and safe workplace for their employees.   
Diversity and Inclusion: CLP operates in multiple jurisdictions with a workforce and customer base from a variety of different cultures and backgrounds. It is committed to providing an inclusive and diverse workplace allowing it to serve its diverse portfolio of customers.
Having introduced this SCoC, CLP is now establishing a third-party risk management framework to ensure transparency of supplier performance along the value chain and to enhance itscapability to assess the different types of risks associated with its supply chain.
In introducing these measures, CLP will work with its suppliers in a collaborative way and help them in building sustainable businesses.


Organisational agility
Copy linkCopy link
Organisational agility allows CLP to respond to a changing energy market and to the social and geopolitical uncertainties that continue to reshape its business landscape.
CLP implemented a fit-for-purpose operating model in Hong Kong and Mainland China, establishing three business lines (Hong Kong Scheme of Control, China Power Development and Energy Solutions) and two key shared capabilities: Projects & Operations (to execute the zero-carbon project pipeline) and Digital. The operating model is intended to better align the way CLP operates to strategy and accelerate transformation towards the Utility of the Future.
Other initiatives aimed at building employee agility, including flexible work options, employee engagement initiatives were also implemented to foster an agile and open work culture. Design thinking and digital capabilities programmes were hosted to enhance skills and agile thinking.
Over 4,100 employees have participated in the Design Thinking Programme since its launch in 2019, with employees now applying design thinking in projects ranging from digital transformation and productivity to safety and customer service.
The Power of Design Thinking
In the post-COVID-19 pandemic context, The Future of Work agenda has emerged and is being debated around the world. More initiatives and flexible work arrangements continue to be introduced at CLP to support talent attraction and retention and to provide a more family-friendly work environment.
Workplace safety and wellbeing
Copy linkCopy link
CLP's strong performance in this topic benefits its people by protecting the health, safety and wellbeing of workers in all CLP locations. Safe operations, such as minimising the risk of COVID-19 virus transmission, also benefits the communities in which CLP operates.
2022 continued to be challenging with the ongoing COVID-19 pandemic across the globe. Employee health and wellness was promoted through flexible working arrangements, equipment setups for remote working, regular communications, as well as health and wellbeing initiatives targeting mental and physical health awareness. Each region responded comprehensively in supporting their employees, particularly in respect to mental health and ergonomics.
Throughout 2022, a series of programmes covering wellbeing, mindset, resilience and high-performance for senior leaders were organised. They included activities to support health and wellbeing such as the launch of the IncrediPlay platform, an online site uniting staff through common wellbeing interests.
Similar initiatives have been gaining more weight in Mainland China with a tailored digital health platform launched in 2022. Over 500 staff have participated in its activities since the launch date.
Customer-facing energy solutions
Copy linkCopy link
Supporting decentralised energy solutions benefits people by enabling flexible, reliable and cost-effective access to clean energy. Delivering better end-use solutions, in turn, benefits the environment by reducing per capita GHG emissions and curbing long-term physical climate risks.

As the energy market evolves to be more customer-centric, CLP aspires to become a Utility of the Future with innovation and adoption of new technologies, bringing cleaner and smarter power supply to its customers. Throughout 2022, CLP continued accelerating its digital capabilities and integrating digital technologies, such as artificial intelligence, the Internet of Things and big data, into its operations. For example, the adoption rate of CLP Power platforms, such as Company website and CLP mobile app, amongst the CLP Power customer base has increased significantly from 7% in 2019 to 63% by 2022.
Digitalisation empowers CLP with data that allows a better understanding of customers' preferences and behaviours, beyond just individual electricity bill accounts. In 2022, CLP Power invited around 600,000 households to reduce their energy consumption in the Summer Savers' Rebate Programme, in which reward points were provided to residential customers with smart meters to reduce energy use during peak demand periods on hot summer days. Smart air conditioner control with artificial intelligence was also introduced to help participating households reduce their consumptions during the events. The programme successfully encouraged customers to adjust their consumption behaviour with a total of 300,000kWh of electricity saved over a four-hour period.
Recognising the enormous potential that digitalisation presents for customers, CLPe continued to provide bespoke energy-saving service solutions with digital elements. For example, CLPe signed a Build-Own-Operate-Transfer (BOOT) agreement with Chinachem Group to build a new water-cooled air conditioning system bundled with Green Electricity Certificates (GECs) at Nina Tower in Hong Kong. This was the first zero-carbon chiller system project in Hong Kong . CLPe also commenced a distributed solar system at the headquarters of MTR Corporation (Shenzhen) Limited in Longhua District. It is expected to generate 1,300MWh of renewable energy per year, equivalent to a reduction of 16,000 tonnes of carbon emissions associated with electricity during the contracting period.
CLP has invested over HK$780 million since 2017 and tapped into the leading technologies emerging in this space. Investments included direct equity stakes, venture capital funds and joint venture investment partnerships in new technologies that have the potential to shape the future of the energy sector and bring products or services to CLP customers that support their decarbonisation efforts.
One of the signature joint venture investment partnerships in 2022 was with Hydro X. The company specialises in developing an energy-efficient, environmentally friendly chemical process to store hydrogen using water and bicarbonate at near room temperature and pressure. This technological breakthrough will bring safe and efficient hydrogen-handling solutions to customers and create a paradigm shift in transportation and operations across various sectors and industries.
Read more on our approach, initiatives and progress for stakeholder impact in relation to this material topic