Bolstering energy security and reliability
The world is in the midst of an energy crisis, triggered by an uncertain geopolitical environment and enduring supply chain disruptions. Escalating fuel prices have resulted in assets running at reduced capacity, which has increased costs for CLP and its customers alike. The Group must balance two vital and sometimes competing objectives: providing customers with secure, reliable and reasonably priced energy while continuing to make rapid progress on decarbonisation objectives.


Reliable and reasonably priced energy
Copy linkCopy link
CLP's customers and the markets in which CLP operates have been adversely impacted by high and unstable fuel prices. CLP exercised prudent cost management while ensuring reliable access to energy. Enabling the uninterrupted operation of key services needed to maintain societal and economic functioning has positive impact on people, the environment and the economy.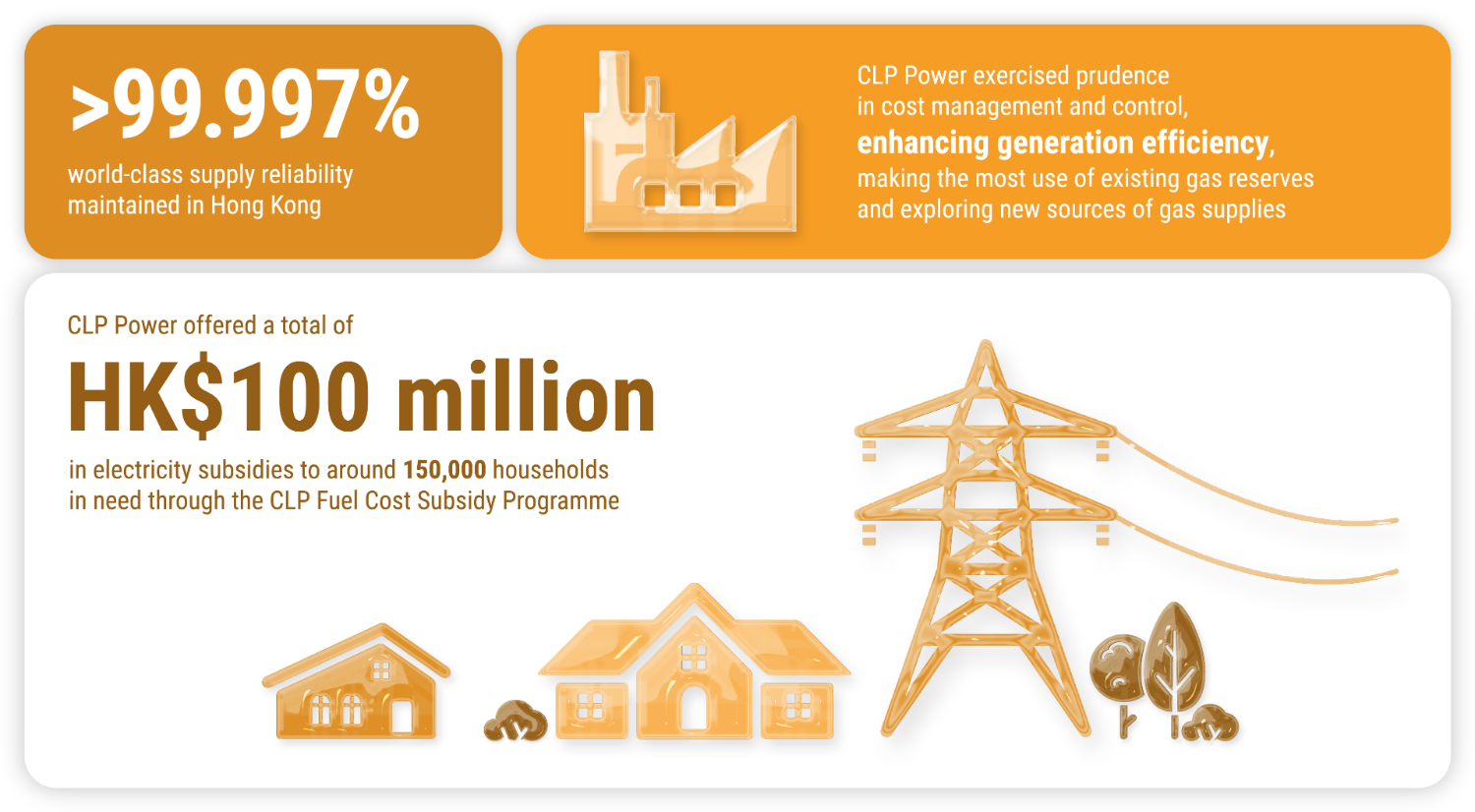 In Hong Kong, maintaining high supply reliability is critical for CLP's customers who by large live in a vertical city built around an economy that depends on electricity for buildings and transport. CLP's high supply reliability is the result of its power expertise, and decades-long commitment to generation, network and operational excellence. The Scheme of Control Agreement (SCA) signed with the Hong Kong SAR Government serves as a stable and long-term regulatory regime, which is crucial for providing an effective mechanism to address electricity industry's requirements and ensure long-term and capital-intensive electric utility infrastructure investments.
As part of its continuous effort in maintaining high supply reliability, CLP adopts advanced technology, such as smart meters, and implements demand-side management measures to optimise electricity consumption and improve utilisation of existing assets. Located in the sub-tropical region, its Hong Kong operations are also enhanced with a number of measures to improve the resilience of the power systems against extreme weather. 
CLP puts tremendous effort to maintain its world-class reliability of 99.997%. However, electricity supply to around 175,000 CLP customers in Hong Kong was affected on 21 June 2022 when a cable bridge in the north-west New Territories caught fire. CLP Power immediately began work to restore the power supply with priority for essential services, including hospitals and railways. Power was restored to around 90% of the affected customers seven hours after the incident, and to the remaining customers around six hour later.
This extremely rare incident was a matter of profound concern for CLP Power, and a panel of experts was appointed to conduct a comprehensive investigation. A final investigation report was submitted to the Hong Kong SAR Government in August 2022. In addition, an external fire consultant was engaged to support a fire risk assessment and reliability review on common cable infrastructures (CCIs). Site-specific assessments were completed on all CCIs and an implementation plan to further reduce fire risk exposure was formulated.
Globally, fuel prices have been highly volatile. In addition, to meet carbon reduction targets and the increasingly tightened air emission caps set by the Hong Kong SAR Government, more natural gas and zero-carbon energy will be needed in the city's fuel mix for electricity generation. CLP Power has worked hard to minimise the impact of fuel cost fluctuations and maintain tariffs at a reasonable level. These actions include: enhancing generation efficiency; making the most use of existing gas reserves; exploring new sources of gas supplies; and securing competitively priced fuels from the global market. For example, CLP imports nuclear power which is relatively stable in price. Amid a continued surge in international fuel prices, nuclear power has played an important role in smoothing out price fluctuations during times of energy market volatility. 
With prudent cost management and control, CLP Power again froze the basic tariff in 2023 against a backdrop of surging international fuel prices. In tandem, it continued its Energy Saving Rebate Scheme for low-consumption residential as well as small and medium enterprises customers and its Concessionary Tariff for the Elderly. CLP Power has also set aside about HK$200 million from the CLP Community Energy Saving Fund to launch a series of community support programmes in 2023, including a HK$100 million Fuel Cost Subsidy programme to subsidise the energy costs of 150,000 families in need.
Read more on our approach, initiatives and progress for stakeholder impact in relation to this material topic
Social Impacts – Customers
Social Impacts – Community
Financial materiality
Shortages in coal and gas could impact CLP's profit margins by driving up input costs and forcing assets to run at reduced capacity. However, CLP may be able to benefit, in the short term, from increased demand for fossil fuel generation, but the larger commercial opportunity lies in leading a faster transition to renewables to support long-term energy security.
Read more on the financial impact
Stakeholders section in the 2022 Annual Report