2022
Delineation of nature-related risks and opportunities through baseline biodiversity assessment at Jhajjar Power Station

In India, Jhajjar Power Station engaged the Confederation of Indian Industries (CII) to carry out a baseline biodiversity survey and assessment in 2022. The initiative followed Apraava Energy's Natural Capital Action Plan (NCAP) aimed at mitigating biodiversity loss. The project received a "Commendation for Significant Achievement in Biodiversity" in the CII ITC Sustainability Awards 2022 (Award category: Domain-Biodiversity).
The baseline assessment was conducted at Jhajjar's major ecosystems and habitats, including about 496 hectares of plant area, the township, nearby villages and eco-sensitive areas, across three seasons as per India Business & Biodiversity Initiative (IBBI) directives. The assessment scope includes site surveys, ecosystem services risk mapping, supplier surveys, biodiversity indexing, and NCAP development. Critical ecosystems and ecosystem services were identified, and dependency on ecosystem services was evaluated.      
The biodiversity at Jhajjar was measured in terms of the biodiversity index that depicted the project area's biodiversity status, enlisting four critical ecosystems/habitats greenbelt plantation, ash dyke, reservoir, and natural forest. It further assessed the carbon sequestration potential of the trees planted in the power plant and the township areas based on the volumes and biomass of the tree species. It was assessed that the amount of carbon sequestered by trees planted so far was about 33,000 tonnes over their lifespan. Further, the assessment result showed that the number of flora and fauna species is far higher than that reported in the previous EIA of the studied area, indicating an improvement of biodiversity.
Overall, Jhajjar's biodiversity value is considered the highest in the region. Through the Baseline Biodiversity Assessment with the NCAP, it enables the maintenance of the diversity of species, habitats, ecosystems, and the integrity of ecological functions, seizing opportunities for enhancing biodiversity.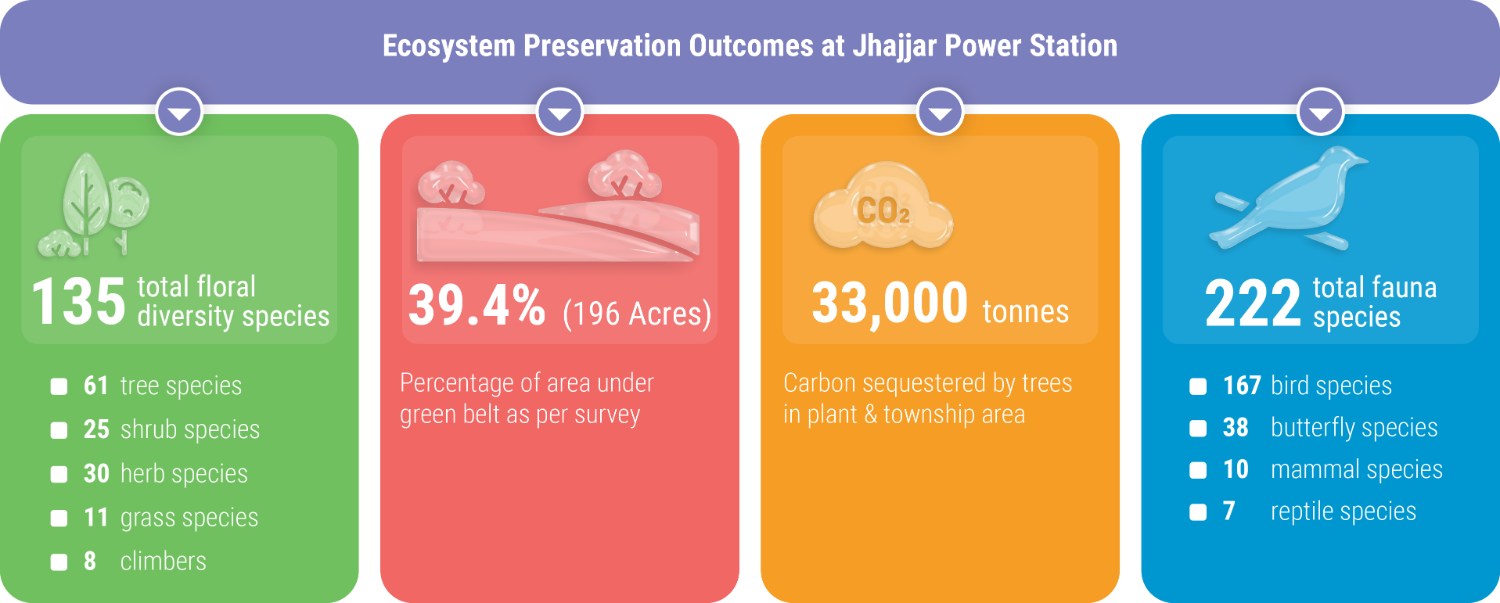 Back to all case studies