2022
Healing the social scars from the pandemic
To fully support the local community on the journey of pandemic recovery, CLP Power rolled out a range of targeted initiatives to address the needs of the communities of Hong Kong.
During the fifth wave of the COVID-19 pandemic, CLP donated HK$2 million to Hong Kong Community Anti-Coronavirus Link (HKCACL) to buy 10,000 sets of personal protective equipment for volunteers carrying out anti-infection work in the community. To support the community in its fight against the pandemic, CLP Power relaunched an electricity bill payment deferral programme for SMEs in the catering and retail trades, allowing them to defer payment for two months.
Although schools have resumed face-to-face classes, a combination of that and e-learning has become a new normal as the pandemic continues to disrupt normal life. CLP launched a Student E-Learning Assistance Programme to donate new iPads, laptops, internet mobile WiFi hotspots and data SIM cards to 1,500 primary, secondary, and tertiary students from low-income families. The initiative aims to help youngsters with online classes and e-learning as they prepare for the new academic year.
Under the prolonged pandemic, CLP Power facilitated social engagement for the elderly by organising four community tours for over 60 elderly who are living in Sha Tau Kok and Shatin to tour around the historic landmarks and beautified distribution box and substation on the Senior Citizen's Day, enabling them to reconnect with the community and learn more about the relationship between the electricity supply and the community. Over 5,300 goody bags were prepared to elderly in need in 2022.
In addition to supporting HKCACL for purchasing 10,000 sets of personal protective equipment for its volunteers, CLP volunteers prepared more than 13,500 anti-virus goody bags for distribution to frontline medical staff. CLP volunteers used their design thinking skills and expertise to develop a digital solutions management system for the HKCACL, allowing it to better manage volunteer data and inventory, match service and supply requests, and support the operation of its call centre. CLP Power also worked closely with HKCACL on a series of communication campaign themed "One Heart, Fight the Virus" to inject positivity to the society and show appreciation to all walks of life during the pandemic. In addition, 5,500 free meal coupons and emergency food packs were distributed to the CLP Hotmeal Canteens' service users. Over 20,000 nutritious food packs were distributed to children from low-income families through 29 NGO partners. DIY solar fan workshops were arranged for the beneficiaries.
In Mainland China, to support the local community, CLP donated RMB300,000 (HK$371,169) to support the COVID-19 relief efforts by local authorities in Qian'an county, Jilin province, where several of its wind farms are based. Employees meanwhile continued a programme of regular visits to distribute food and necessities to people in villages and elderly homes near CLP's plants during the Chinese New Year holiday period.
CLP's effort in helping people in need through its community programmes is well recognised and won the Outstanding Corporate Award and Gold Award of the Volunteer Hour Award for Corporate in the Hong Kong Volunteer Award 2022.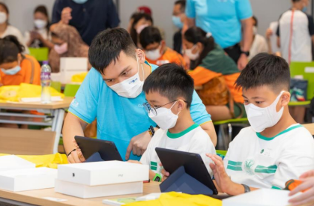 Back to all case studies