2022
Supplier Code of Conduct to mandate CLP's environmental, social and business objectives in its value chain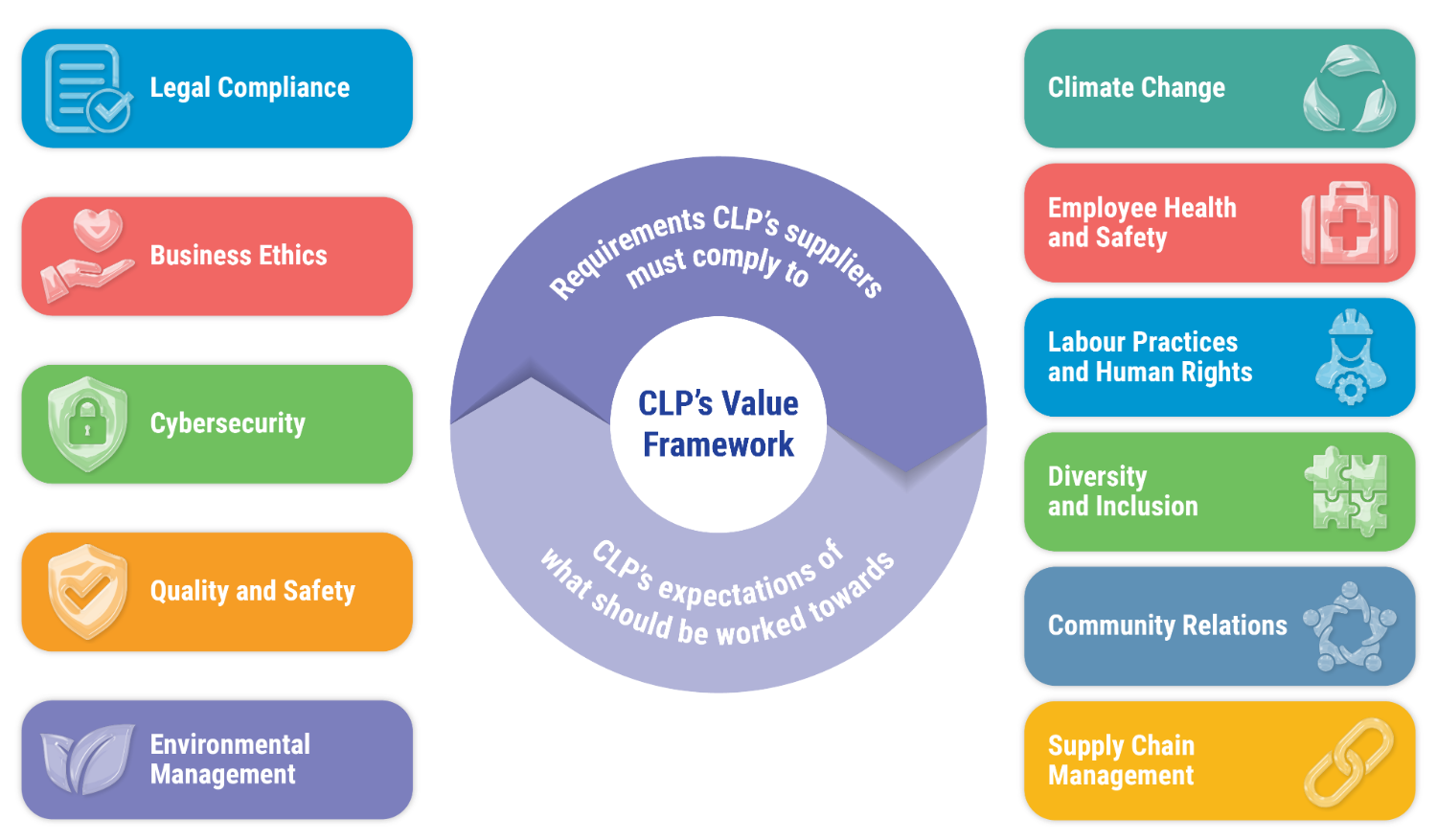 CLP newly released its Supplier Code of Conduct (SCoC) in December 2022. Derived from CLP's values, policies, standards and objectives, the SCoC is a general statement on its expectations of the suppliers CLP does business with and those who want to do business with CLP. 
The SCoC comprises 11 responsible procurement practices which align with CLP's Value Framework.
Legal Compliance – Comply with the laws and regulations of the jurisdictions in which CLP and its suppliers do business

Business Ethics – Apply ethical business practices without conflict of interest or undue influence, and against bribery and unethical behaviours and practices in business decisions

Cybersecurity – Respect and protect own data and the personal data of customers

Quality and Safety – Provide reasonably priced and reliable energy, quality service and value to customers

Environmental Management – Minimise the environmental impact of the value chain and preserve the natural environment proactively

Climate Change – Decarbonise the portfolio and reduce Scope 3 greenhouse gas (GHG) emissions including upstream supply chains

Employee Health and Safety – Provide guidance and support to suppliers to create a healthy and safe workplace for their employees.

Labour Practices and Human Rights – Cascade CLP's value to suppliers so as to provide a dignified, fair and equal workplace

Diversity and Inclusion – Provide an inclusive and diverse workplace that enables CLP to serve its diverse portfolio of customers

Community Relations – Create a positive impact and minimise operational impact through engagement with local communities

Supply Chain Management – Encourage suppliers to do business responsibly with their upstream suppliers
For each of the practices, the SCoC highlights what the supplier must comply with and what they should work towards.
The SCoC is embedded into CLP tender documents and contracts. CLP encourages its suppliers to monitor, manage and disclose their performance to SCoC and to extend similar principles into their upstream supply chains. To facilitate the communication with suppliers and their understanding of the SCoC, CLP continues to actively provide feedback and advice to its suppliers to help them work towards reaching CLP's expected standard.
If there is a gap between a supplier's approach and the SCoC, CLP will encourage the supplier to formulate and implement an enhancement plan. To support CLP's efforts in managing its supply chain, CLP may request a supplier to provide evidence of accreditations, certifications, self-assessments, compliance reviews and audit reports.
Back to all case studies