2022
Teaming up with local initiatives and giving back to the community through EnergyAustralia's Community Grants Programme
EnergyAustralia is committed to making a positive contribution to local communities. The Community Grants Programme provides funding to local initiatives that aim to deliver sustainable benefits and achieve tangible outcomes.
EnergyAustralia is proud to be involved in the communities where it operates. It recognises the importance of engaging with the community to build a vibrant place to live and work. Community Grants Programme support this endeavour by providing funding to local initiatives which deliver sustainable benefits and tangible outcomes to the communities at the sites it operates, including Hallett Power Station, Mount Piper and Wallerawang Power Stations, Tallawarra Power Station, Yallourn Power Station and the Geelong Call Centre.
In 2022, EnergyAustralia provided over A$140,000 (HK$ 759,270) to grass roots communities to support local projects in the areas of education, social inclusion and regional sports and recreation through its Community Grants Programme.
The Geelong Call Centre funded to the  Wangala Primary School to build a yarning circle at an unused site within the school's ground. This yarning circle will be a place for students to come together to yarn and share their feelings and stories. It seeks to build resilience as part of their wellbeing programme. 'Yarning' is part of First Nations culture – a culture fully embraced by the school and proudly reflected  in its local Wadawurrung name, Wangala, meaning "to make good" or "to make right".
Yallourn Power Station granted its fund to the Thorpdale Primary School for a Sound Writing Program. The Sound Write program uses structured synthetic phonics resources to teach students to read, write and spell. It provides children with the skills to decode words rather than memorise them to learn. Throughout the year, the programme has helped many students at the school learn to read, write and spell using phonics. These grants, which support and connect with the community that Yallourn has been part of for 100 years, are supported by more than 500 employees at Yallourn site.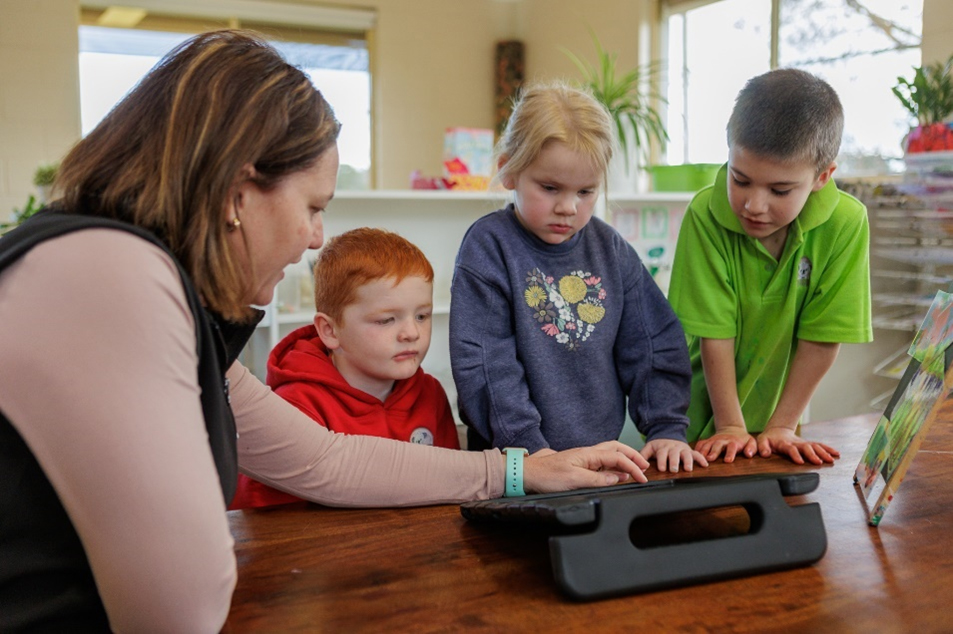 Fund granted to the Sound Writing Program of Thorpdale Primary School to teach students to read, write and spell
Back to all case studies