2021
Incorporating the art of Traditional Owners at EnergyAustralia's new headquarters
EnergyAustralia's new headquarters at Two Melbourne Quarter (2MQ), in the heart of the city, boasts the latest technology and sustainable, cutting-edge design. Though it is not all about the new and futuristic. The office also respects the past and present Traditional Owners of the land it occupies, the Wurundjeri Woi-Wurrung peoples of the Kulin nation.
EnergyAustralia's main reception area, on level 19, features the embossed word 'Wominjeka' which means 'Welcome' in the Wurundjeri and Dja Dja Wurrung languages of Melbourne/Naarm and central Victoria. The centrepiece of the new headquarters is the artwork titled Wominjeka Wurundjeri-al Biik-u (Welcome to Wurundjeri Country) on the office's hub floor, created by artist Mandy Nicholson, a Wurundjeri, Dja Dja Wurrung and Ngurai Illam Wurrung woman.
"The work represents the six layers of Wurundjeri country: Dharangalk Biik (Cosmos), Wurru wurru Biik (Sky Country), Murnmut Biik (Wind Country), Baanj Biik (Water Country), Biik-dui (On Country), and Biik-ut (Below Country)," said Mandy. "Another way to keep our culture alive is through art and raising the awareness that our connection to country has never faded."
Consultation with Traditional Owners early in the design process of the headquarters has resulted in an interior that has culture at the forefront for all to see and learn from. The consulted elders, Aunty Gail Smith and Aunty Julieanne Axford, are passionate about their heritage and proud to share their wealth of knowledge.
Social Performance Lead at EnergyAustralia, Jade Torcasio said, "We wanted to speak with Traditional Owners in the very early stages of this project and explain our plans, and to listen to Traditional Owners on their own cultures, stories and aspirations. The outcome is a mutual agreement on how we recognise and show respect to their cultures and continue their work in keeping it alive by incorporating it into the way we work."
The initiative is part of EnergyAustralia's commitment to increase engagement and participation with Aboriginal and Torres Strait Islander peoples, cultures and communities, in line with its Reconciliation Action Plan launched in 2017.
Visit here to find out more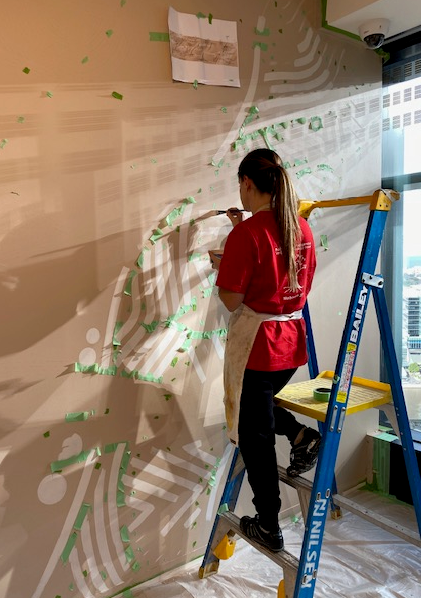 Back to all case studies