Stakeholder Engagement Framework
GRI reference: 102-43 , 102-44
CLP's Stakeholder Engagement Framework provides open and transparent channels for stakeholder input, and a review and consideration process where concerns about CLP's business are responded to in a timely manner. It includes the following steps:
Aligning engagement objectives with business objectives

Mapping issues and concerns

Identifying relevant stakeholders

Developing a communications and engagement plan

Conducting the engagement activities

Capturing feedback and reporting on outcomes.
The effectiveness of CLP's approach to stakeholder engagement is captured through a number of measures, which include stakeholder feedback, outcomes following engagement, positive and/or negative news about the Company, brand perception ratings, and recognition and awards.
Strategies and procedures
GRI reference: 102-40, 102-42, 102-44
CLP's business activities involve a diverse range of stakeholders. For each project, key stakeholder groups are identified and prioritised based on how they will be impacted, and their influence on the success of the business. CLP has a wide range of easily accessible public engagement channels to enable it to receive concerns, interest or feedback at any time during the year.
CLP's Stakeholder Engagement Framework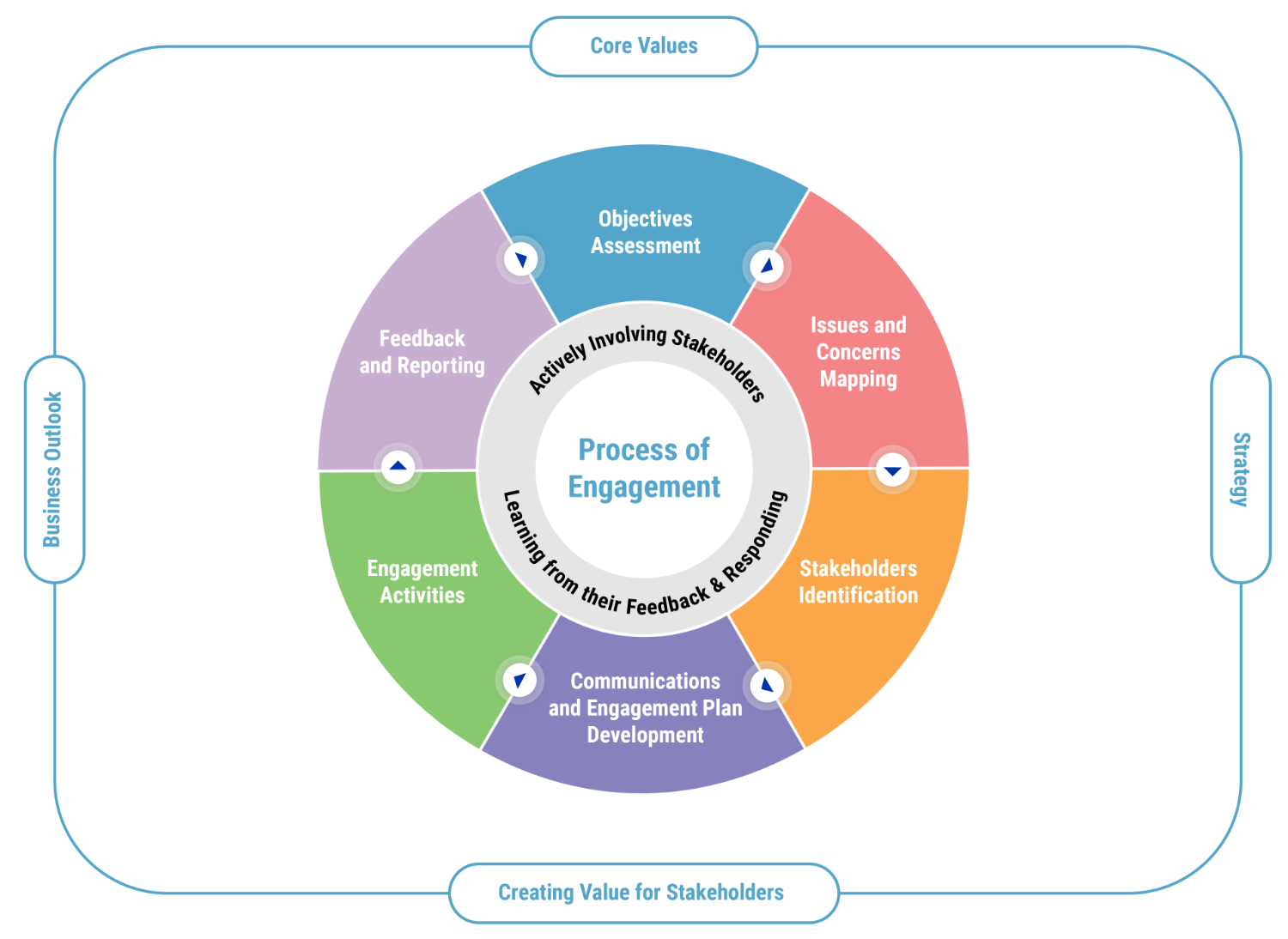 As one of the largest investor-owned power businesses in Asia serving over 80% of Hong Kong's population and operating in other jurisdictions, CLP has a diverse range of stakeholders to serve. This includes governments which drive regulations, customers, asset owners and communities that CLP is liable for, as well as employees, suppliers and contractors who contribute to its operational success.
The Company is committed to responding to stakeholders' concerns about the business in a timely manner. These concerns vary depending on the location and context and therefore require different actions or responses. General complaints about the Company are typically handled by the Public Affairs team who work with the relevant business units to resolve the issues at hand.
The tables below summarise the key stakeholders, their key concerns during the year, and how they were engaged. During 2020, some of the in-person communication channels moved online due to the COVID-19 pandemic.
Lenders, investors and shareholders
Governments and regulators
Suppliers and contractors
Employees
Residential, commercial and industrial customers, electricity boards, grid companies
Community groups, legislators, NGOs, industry and professional organisations, academia
GRI 415-1 Political contributions
CLP's policy is to remain politically neutral and to avoid making political contributions. For public policy developments which apply to the electric utility industry, the Group develops carefully considered positions and seeks to provide input to support the decision-making process. By bringing its industry expertise to the table, CLP can add value to the discussion on how best to structure rules for the energy industry going forward, as both technology and public demand evolves.
Download CLP's Policy on Making Political Contributions
CLP's responses to major public policy consultations – in addition to the Group-wide positions on critical issues such as climate change – are published and accessible on the Company's websites. For example:
CLP Power Hong Kong's response to the consultation on the long-term decarbonisation strategy for Hong Kong is available here.

EnergyAustralia worked with the industry to consult with the Australian Government on the National Energy Guarantee (NEG) on discussions regarding how the Company could best balance the transition to clean energy and maintain reliability in the energy system. The submission made in 2018 can be found here.
None of CLP's businesses receive any significant government financial assistance. The businesses do take up government financial incentives or subsidies which are in place to encourage market participants to behave in certain ways. Examples of such incentives include tax holidays and preferential tariffs for renewable investment or financial assistance from export credit agencies.
CLP supports and actively participates in a range of organisations to enable the Company to keep abreast of different stakeholders' views, navigate policy uncertainties and shape informed policy making. The contribution is made through paying membership fees, making donations, providing sponsorships, and giving input to policy position papers.
The table below outlines the total amount CLP has contributed to organisations which seek to influence public policy.
| Types of organisation (HK$M) | 2020 | 2019 |
| --- | --- | --- |
| Lobbying, interest representation or similar | 0 | 0 |
| Local, regional or national political campaigns, organisations or candidates | 0 | 0 |
| Trade associations or tax-exempt groups (e.g. think tanks)1 | 8.90 | 8.04 |
| Others (e.g. spending related to ballot measures or referendums) | 0 | 0 |
Includes contributions to professional organisations that seek to influence policies in the form of membership, donation or sponsorship.
Read more on CLP's engagement related to climate change
Contributions to public policies
| Contributions to public policies | | | | | |
| --- | --- | --- | --- | --- | --- |
| Types of organisations (in HK$M) | 2020 | 2019 | 2018 | 2017 | 2016 |
| Lobbying, interest representation or similar | 0 | 0 | N/A | N/A | N/A |
| Local, regional or national political campaigns, organisations or candidates | 0 | 0 | N/A | N/A | N/A |
| Trade associations or tax-exempt groups (e.g. think tanks) | 8.90 | 8.04 | N/A | N/A | N/A |
| Others (e.g. spending related to ballot measures or referendums) | 0 | 0 | N/A | N/A | N/A |
Community investment