CLP Power Hong Kong is the sole electricity provider for Kowloon, the New Territories and most of the outlying islands in Hong Kong. It serves close to 2.7 million retail customers and about 80% of Hong Kong's population. Total electricity sales for 2020 were 33,963 GWh which all came from sales to Hong Kong customers.
While Hong Kong is perceived by some as a mature market, there is still a growing demand for electricity. This is largely driven by a number of territory-wide development and infrastructure projects, including Energizing Kowloon East, the West Kowloon Cultural District, the Lok Ma Chau Loop, and local transport infrastructure projects that will enhance mobility and sustainability in Hong Kong, including several new railway projects that are under construction. In addition, as Hong Kong is targeted as a prime location for data centres, there is a need to ensure highly reliable power supplies to support and facilitate the development of the energy-intensive data centre industry.
Hong Kong customer breakdown
Download data (excel)
i
There has been gradual growth of customer accounts over the last five years, mainly from the residential sector.
EnergyAustralia sells electricity and gas to retail customers in New South Wales, Victoria, South Australia, the Australian Capital Territory and Queensland (electricity only). It is among the 30 or so retailers active in the key markets of New South Wales and Victoria.
In 2020, EnergyAustralia's retail customer accounts decreased by around 31,400, or just over 1%, in the first half of the year before the Company's focus on improved products and customer services helped stabilise accounts in the second half.
Australian customer breakdown
Download data (excel)
i
In 2020, EnergyAustralia's number of customer accounts reduced by around 1%.
Across the Group, services are in place that ensure most challenges, including language, culture, literacy, financial situation or disability, do not prevent people from accessing and using the Company's products.
Special arrangements are in place for customers facing financial difficulties to avoid having to disconnect their electricity supply. In Hong Kong, CLP Power offers a Braille bill to assist those who are visually impaired. In Australia, EnergyAustralia provides interpreter services for those who have a first language other than English, and also offers hearing-impaired and vision-impaired billing services.
Hong Kong
CLP understands that although the tariff level in Hong Kong is reasonable and competitive when compared to other major metropolitan cities around the world, it could potentially be a financial burden to vulnerable groups.
Compared to large capital enterprises, SMEs in general are more vulnerable to operational cost increases and economic downturns. In Hong Kong, CLP Power provisioned HK$150 million in subsidies to all its SME customers to offset the impact of the rise in the Fuel Cost Adjustment for the first six months of 2020. The subsidy was applied universally across all SME customers. Twice during the year, CLP Power also offered an electricity bill payment deferral programme for SME customers in the catering, retail and hotel trades, to help them get through financial difficulties.
To support residential customers, CLP Power offered a total of HK$21 million in electricity subsidies to around 40,000 households in need through the on-going CLP Power Connect Programme. The Company also offers concessionary tariffs for the elderly who are entitled to Comprehensive Social Security Assistance. Special arrangements for customers in arrears are also in place, including programmes to help those at risk of supply disconnection. Payment deferral or interest free payments by instalment are offered in demonstrated cases of hardship.
In extreme cases when customers do not pay for their electricity, CLP Power will communicate with the customers and offer assistance including flexible payment options to avoid disconnection. Under the COVID-19 situation, the Hong Kong Government introduced control measures such as social distancing and work-from-home arrangements have impacted both residential and business customers. Nevertheless, CLP's operations have flexible measures to cope with the situation. Most cases took a longer time than usual to trigger, verify and execute disconnection as compared to previous years.
Disconnections for CLP Power Hong Kong
Download data (excel)
i
The total number of disconnections for Hong Kong retail businesses increased to 4,999 cases in 2020, which is a slight increase from 4,643 cases in 2019.
Australia
EnergyAustralia recognises that all customers need to be able to access its products and services fairly and equally. Through the Energy Charter, the Company commits to working together to improve affordability and to support customers experiencing vulnerable circumstances.
Download EnergyAustralia's Energy Charter disclosure (30 June 2020)
The EnergyAssist hardship programme helps customers by offering tailored payment plans, payment matching and debt waivers, as well as providing energy efficiency education to ensure that customers are well-informed for making decisions. EnergyAustralia monitors the number of customers on the programme, their debt levels and the number of successful completions. In 2020, 35,974 account holders entered the programme and 11,343 account holders left the programme after successfully completing their payment commitments. This represents a graduation rate of 33%, an improvement on 19% in 2019.
2020 was a particularly challenging year for Australian customers due to the COVID-19 pandemic and Black Summer bushfires from 2019 to early 2020. This saw a significant increase in both residential and business customers experiencing financial difficulties and seeking support, many for the first time.
In response to the pandemic, from March to December 2020, EnergyAustralia helped residential customers experiencing difficult financial situations by putting in place over 225,000 payment plans and more than 185,000 payment extensions.
View EnergyAustralia's Hardship Fact Sheet
To support the substantial increase in households seeking assistance, EnergyAustralia created around 100 new customer service roles. This doubled the size of the EnergyAssist specialist team and expansion of the contact centres. Many of the new recruits came from industries impacted by the pandemic.
EnergyAustralia's business customers were some of the first to access tailored support. In consultation with customers, specialist EnergyAustralia business advisers devised payment schedules, offered free standard disconnections and reconnections, advised on lowering energy consumption, and provided guidance on government energy relief subsidies.
In 2020 EnergyAustralia launched Rapid Business Assist, a programme supporting SMEs facing financial uncertainty. In consultation with customers, specialist EnergyAustralia business advisers customised payment schedules, offered free standard disconnections and reconnections, advised on lowering energy consumption, and provided guidance on government energy relief subsidies.
In 2020 the programme provided more than 15,000 payment extensions and over 1,800 payment plans for business customers. Small business suppliers were moved to 14-day payment terms to support their cash flow.
Regrettably, in 2020, the Federal Court of Australia ordered EnergyAustralia to pay a A$1.5 million penalty for disconnecting eight customers who were experiencing hardship. The disconnections took place between 2016 and 2018. Since this occurred, EnergyAustralia created more steps to engage customers and determine what level of support they may need. They have also significantly improved and strengthened customer relationship management systems, and staff training and controls to ensure customers in need are supported.
* Customers may also be referred to external community organisations, such as financial counsellors, government grant providers, and energy auditors.
Overcoming significant time pressure, CLP Power's engineering team completed the planning, construction, and connection work of a power grid to provide a reliable power supply to the Penny's Bay Quarantine Centre.
Upon a surging number of cases of COVID-19, the Hong Kong Government planned to arrange thousands of quarantine units in early 2020 to closely monitor the health of those with close contacts of COVID-19 confirmed cases. Every minute counted, and it was important to ensure the rapid provision of power supply to this originally undeveloped land to support the operation of the new quarantine centre.
CLP Power joined forces with government departments to construct a safe and reliable power supply network for the Penny's Bay Quarantine Centre on Lantau Island. The Quarantine Centre was created on undeveloped land that lacked any power network or basic infrastructure, making it extremely challenging in terms of time and project planning. It normally takes several months to build a new power grid, but the process was expedited and each phase took only about two months. The dedicated CLP Power engineering team: worked beyond normal hours to resolve technical issues in a timely manner; coordinated the project well from substation design to discussions over the supply plans; and worked closely with different Government departments and contractors to ensure high-quality delivery of the project.
The project provided electricity supply to 3,500 units for the Phase 1 to 4 compulsory quarantine centre, supporting the Government's fight to safeguard Hong Kong people against COVID-19.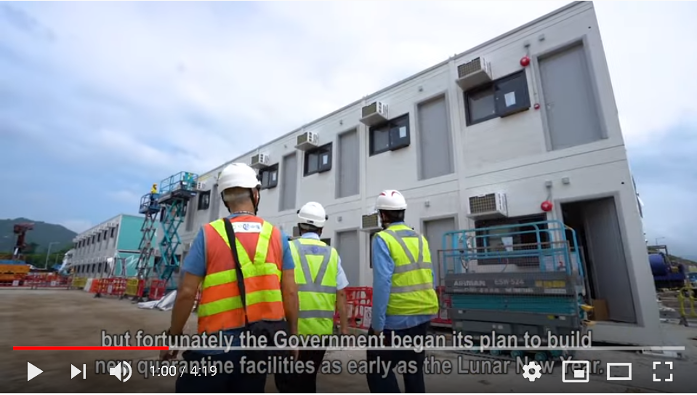 CLP's Power Expertise Helps Fight COVID-19
WATCH NOW
Strategies and procedures
CLP customers can access information on products and services in a timely and efficient manner through a number of communication channels, such as a welcome pack for all new customers, information on the CLP Power Hong Kong websites and CLP Mobile App, as well as the EnergyAustralia websites and Mobile Apps.
In addition to providing information, CLP strives to effectively respond to customer needs and preferences. The Customer Interaction Centre (CIC) in Hong Kong has an internal service pledge to acknowledge written complaints within two working days. All escalated cases are studied thoroughly to appropriately resolve the issues customers have raised.
EnergyAustralia has over two million conversations with customers every year, either over the phone or via digital service channels. The Company also engages with more than 100,000 individuals, businesses and stakeholders annually through formal research to help shape business decisions, products and services.
Monitoring and follow-up
To gauge customer feedback about retail services and performance, customer satisfaction surveys are conducted regularly.
In Hong Kong, an external market research consultant conducts an annual telephone survey. The customer satisfaction score considers overall satisfaction towards CLP and a relative rating against an ideal utility in Hong Kong. The score is benchmarked against the public utilities in the energy sector and other public service organisations.
Since 2012, EnergyAustralia has been measuring customer satisfaction through its Strategic Net Promoter Score (NPS). Customer satisfaction is measured monthly via an online NPS survey sent to a representative group of customers. The Transactional Net Promoter Score is also used to track customer satisfaction in relation to specific customer interactions, providing more direct feedback to frontline staff. EnergyAustralia also measures the number of calls and complaints received.
Hong Kong
In 2020, CLP Power's customer satisfaction score has improved slightly and is now on par with other public service organisations.
CLP Power Hong Kong customer satisfaction score
Download data (excel)
i
CLP Power's customer satisfaction score achieved a slight improvement against the prior year, and is now on par with other public service organisations.
Due to the COVID-19 pandemic, some customers experienced delays or disruptions in their meter reading and paper bill delivery services. Routine meter reading services were occasionally affected when the pandemic situation was serious, resulting in some customers first receiving an estimated bill, in which an adjusted bill based upon actual consumption was sent again once the meter reading service resumed. Customers were assured that they had not been overcharged due to the service disruption. In 2020, CLP Power received thousands of customer enquiries. Many were related to the revised bill arrangements of providing a bill estimate due to the temporary suspension of meter reading services. Despite the substantial increase in call volumes and time taken to handle each case, the team managed to fulfil the Company's service pledge of answering 80% of calls within nine seconds.
The period has also helped CLP Power to communicate the benefits of smart meters to customers. The insights the Company gained means it can create more focused products and services that better match customer needs. To date, CLP Power is on schedule to have rolled out close to 840,000 smart meters.
Find out how technology improves customer service in CLP Power
Australia
EnergyAustralia has demonstrated its commitment to customers through what has been a tumultuous year due to the impacts of COVID-19. Their improved digital experiences has resulted in growth in digital transactions, with 75% of interactions now occurring digitally. The Company has also seen large increases in the number of customer interactions via the EnergyAustralia self-service applications and SMS.
Complaint volumes continued to decline, with total complaints received declined by 19% from the 2019 figure. This result was brought about by continued improvements in internal and external dispute resolution practices, and operational interventions to address key billing complaint drivers.
Complaints received by EnergyAustralia
Download data (excel)
i
The focus on billing complaint drivers and improving dispute resolution is reflected in the decrease in number of complaints received.
The 2019 number was restated.
In Hong Kong the Personal Data (Privacy) Ordinance (PDPO) governs the protection of personal data of individuals. The Data Protection Principles in the PDPO frame CLP Power's obligations (as a data user) relating to the collection, accuracy, retention, use and security of personal data, and a customer's right to access their personal data. In 2020, CLP was awarded the Gold Certificate of the Privacy-Friendly Awards from the Office of the Privacy Commissioner for Personal Data, Hong Kong, in recognition of CLP's performance in the protection of personal data.
EnergyAustralia has obligations under the Australian Privacy Act 1988 to ensure that personal information is appropriately used, handled and managed. Under the Privacy Act, there are mandatory data breach reporting obligations. The Company is required to report notifiable data breaches that are likely to result in serious harm to individuals to the Office of the Australian Information Commissioner (OAIC) and to the affected customers.
The Australian Competition and Consumer Commission (ACCC) continued consulting with the energy sector on the Consumer Data Right (CDR). The CDR will give customers the right to share their transaction, usage and product data with service competitors and comparison services, if they choose to do so. Under the customer's direction, EnergyAustralia will be obligated to provide data to accredited third parties. Comparable obligations have already commenced in the Australian banking sector. This reform is anticipated to be in force within the energy sector by mid to late 2022.
Strategy and procedures
All employees must follow CLP procedures, practices and local regulations in relation to personal data privacy. The Group preserves the confidentiality of the personal data provided to it in accordance with the CLP Privacy Policy Statement, which was updated with effect from 1 November 2018. In addition, CLP implements and abides by the CLP Personal Data Protection Compliance Manual (2020 version) which provides guidance on the protection and use of personal data to business units with operations in Hong Kong.
Monitoring and follow-up
Across the Group, CLP monitors and documents any complaints related to breaches of customer privacy and the loss of customer data. In addition to the CLP Personal Data Protection Compliance Manual, the Customer & Business Development Unit has a written guideline for handling customer data incidents. The guideline includes the classification and assessment of the scope and severity of a data incident, reporting roles and responsibilities, and the incident response strategy and checklist. The Corporate Data Protection Officer also retains a record of data incidents and follow-up actions. CLP's Hong Kong retail business has reported or noted no customer data loss cases in 2020.
EnergyAustralia has developed and maintains a Data Breach Response Plan which is implemented by a Data Breach Response Team. The plan outlines the strategy for assessing, managing, containing and reporting data breaches within required timeframes and outlines roles and responsibilities. It is enacted each time a potential data breach is identified. Nine notifiable data breaches were reported to the OAIC in 2020. EnergyAustralia has investigated the causes of the breaches and has identified additional controls to prevent recurrence.
Training and awareness
Customer privacy may be compromised as a result of a cyber security incident, or by the mishandling of customer information by employees. In 2020, training was provided on data protection through: a mandatory e-learning programme for all staff members and new joiners, at Legal Review Committee meetings, as well as with all data protection officers and record managers. Within individual business units, CLP runs awareness programmes through briefings, video sharing, case studies, quiz games and refreshers on data protection principles. Industry threats are continuously reviewed with a view to strengthening controls on managing and monitoring networks, systems and mobile devices, data loss and suspicious cyber activities. CLP also regularly reinforces the need for timely reporting of potential privacy incidents and the reporting mechanisms available.
At EnergyAustralia, customer privacy remains the focus of briefing sessions with leadership, enterprise-wide communications and employee training to ensure all staff are up-to-date with current privacy and data management. Specific awareness activities (communications, further training, quality assurance assessments and coaching) to frontline staff have been key in 2020. This has further reinforced rules to protect customer information.
Read more on how CLP protects personal data
As part of the continuous efforts to drive towards a greener future, CLP is stepping up its DSM measures. Energy management offers mutual benefits to customers and to the business. For customers, bills can be reduced, and for power companies, new investment in electricity infrastructure can be deferred.
The CLP Power Customer Service Quality Policy also includes a commitment to support customers in using CLP products and services more efficiently and effectively.
Goals and targets
In Hong Kong, CLP Power is regulated by the Scheme of Control Agreement (SoC), in which the current SoC (2018-2033) refines the list of energy saving and DSM goals and targets covered in the previous SoC (2008-2018). The SoC (2018-2033) includes:
Performance targets for the energy audit and energy saved from the energy audits. Under the current SoC are set at about four times the previous targets, which will offer 600 energy audits to business customers a year with total electricity saved expected to reach 48GWh each year.

Demand response programmes offered to commercial and industrial customers to lower the overall system demand, resulting in a lower requirement for investments in new generation units in the long-term. The target for this initiative is to achieve a reduction of up to 60MW from the demand peak.

A new five-year energy saving target. CLP must achieve at least 4% of energy savings on the basis of the average annual sales within a five-year period in order to earn incentives issued under the SoC. More incentives will be given if the energy saving reaches 5%.
Read more on CLP Power's SoC performance
Strategy and procedures
Drawing on CLP's long expertise in the power industry, residential and business customers and the community at large are encouraged to use energy more efficiently and to change their behaviour so that they can save more energy and help protect the environment.
CLP aims to change people's habits and encourage them to conserve energy through:
Educating the public

Providing customers with information and energy-saving tips

Equipping customers with tools and technical support, and

Supporting enablers to make greater energy efficiency possible.
In Hong Kong, CLP Power launched the Feed-in Tariff (FiT) Scheme in 2018 and the Renewable Energy Certificates (RECs) in 2019 to encourage community participation in local renewable development. The FiT Scheme, in particular, has received a strong positive response from the public. The Scheme allows customers to connect their renewable energy systems to the grid and sell the electricity generated back to CLP Power at favourable rates. Customers who want to support the local development of renewable energy but are unable to accommodate a renewable system of their own have the option of subscribing for RECs. The Certificates represent the environmental attributes of electricity produced by local renewable sources and purchased or generated by CLP.
In Hong Kong, various initiatives were implemented in 2020 to support DSM. They are listed in the tables below.
Providing free professional consultancy services and subsidies to help customers enhance energy efficiency:
Encouraging and supporting local renewable energy generation:
Providing tools to customers for better energy usage management:
Encouraging residential customers to save energy for the benefit of disadvantaged groups:

In Australia, EnergyAustralia implemented the following initiatives in 2020 to raise awareness of energy consumption and energy efficiency. More information can be accessed here.
Providing professional consultancy services to help customers enhance energy efficiency:
Encouraging and supporting local renewable energy generation:
Providing tools to customers for better energy usage management:
Customer portfolio
| CLP Power Hong Kong | 2020 | 2019 | 2018 | 2017 | 2016 |
| --- | --- | --- | --- | --- | --- |
| Total Hong Kong customers (number) | 2,671,836 | 2,636,408 | 2,597,083 | 2,555,522 | 2,524,329 |
| Commercial | 208,150 | 206,792 | 206,073 | 203,891 | 201,582 |
| Manufacturing | 17,540 | 17,575 | 17,966 | 18,650 | 19,454 |
| Residential | 2,333,901 | 2,301,200 | 2,265,151 | 2,228,438 | 2,200,009 |
| Infrastructure and public services | 112,245 | 110,841 | 107,893 | 104,543 | 103,284 |
| EnergyAustralia | 2020 | 2019 | 2018 | 2017 | 2016 |
| --- | --- | --- | --- | --- | --- |
| Total Australian customers (number) | 2,449,401 | 2,480,7811 | 2,550,138 | 2,623,425 | 2,625,192 |
| Commercial and Industrial | 8,962 | 12,599 | 12,526 | 13,234 | 15,238 |
| Mass market | 2,440,439 | 2,468,1821 | 2,537,612 | 2,610,191 | 2,609,954 |
The 2019 number has been adjusted to include a further 14,700 accounts, primarily arising from changing where gas accounts are sourced.
Access to electricity
| CLP Power Hong Kong | 2020 | 2019 | 2018 | 2017 | 2016 |
| --- | --- | --- | --- | --- | --- |
| Total disconnections for Hong Kong retail business (number) | 4,999 | 4,643 | 6,722 | 7,888 | 9,103 |
| 0 - 2 days | 98 | 4,333 | 6,319 | 7,426 | 8,545 |
| 3 - 7 days | 506 | 170 | 225 | 255 | 359 |
| 8 - 31 days | 2,274 | 101 | 168 | 192 | 190 |
| ≥ 32 days | 2,121 | 39 | 10 | 15 | 9 |
Customer satisfaction
| CLP Power Hong Kong | 2020 | 2019 | 2018 | 2017 | 2016 |
| --- | --- | --- | --- | --- | --- |
| Customer satisfaction score | | | | | |
| CLP | 74 | 72 | 73 | 71 | 70 |
| All public utilities in the energy sector | 74 | 73 | 73 | 71 | 70 |
| Public service organisations | 74 | 73 | 73 | 71 | 70 |
| EnergyAustralia | 2020 | 2019 | 2018 | 2017 | 2016 |
| --- | --- | --- | --- | --- | --- |
| Customer service | | | | | |
| Calls handled by EnergyAustralia (number) | 1,696,233 | 1,856,845 | 2,364,731 | 2,421,816 | 2,590,868 |
| Complaints received by EnergyAustralia (number) | 17,049 | 20,9371 | 23,3902 | 29,180 | 23,536 |
The 2019 number was restated.
The 2018 complaints number reveals a small amendment to account for a further reduction by 2% in complaints.